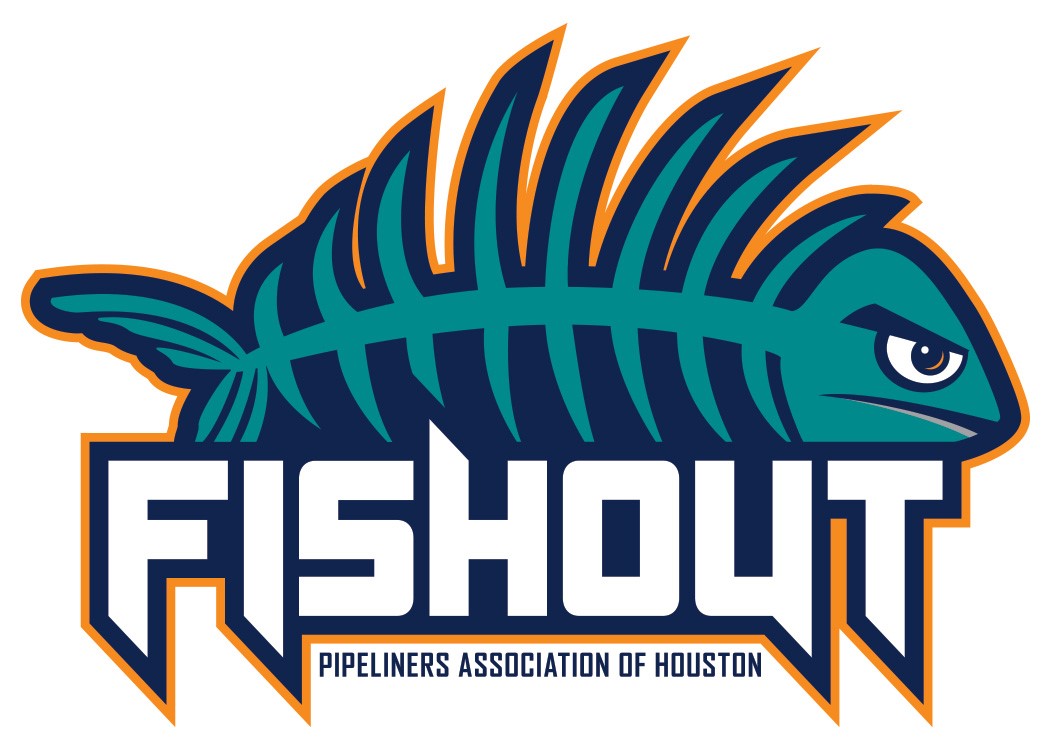 **Please Note Registration dates**
All Registration will open April 13, 2020 @ 9 a.m.
*General Team Registration will end April 30th for teams wishing to have correct shirt sizes for team members. General Team Registration will continue until June 1, 2020 for anyone wishing to participate in the Fishout.
Fishout 2020 is a three day networking/fundraising event for all Houston Pipeliners Members. This year the fun will begin at 4 p.m. on June 4.
Sponsorship Levels:
Gold
$3,000-Company
Logo
on Tournament Shirt and Stage + 3 Fishing Teams Entries
Silver
$2,000- Trophy Sponsors- Company
Name
on One category of Trophy, Company logo on Tournament Day Stage + 1 Fishing Team Entry
Bronze
$1,000 Dry Bag Sponsors- Company
Logo
on Tournament Dry Bags + Company
Name or Logo
on Tournament Day Stage
SCHEDULE OF TOURNEMANT EVENTS AND INFORMATION:June 4, 2020- 2nd Annual Fishout Crawfish Throwdown 4 p.m.-8 p.m.
All fishing teams and members that are down Thursday to pre-fish the Fishout are cordially invited to a night of great music, food and fun at the Roberts Point Park Pavilion in Port Aransas.
The party starts around 4 p.m. Expect plenty of crawfish, music and a chance to win a new shotgun*.
Remember to pick up your wristband at the registration desk and Concert T-shirts, too!!
This is a BYOB** Event!!
*Tickets will be sold at the event.
Must Be Present to win
. Our performer will be handing out a gun and prizes to the winners and photo opportunities will be available after the show.
**Bring your own alcoholic beverages
June 5, 2020- Friday-CHECK-IN PARTY SCHEDULE and DETAILS:
Check in will be 4 p.m.-8 p.m. Team leaders and participants are required to come to check in and sign waiver from 4:00 p.m. until 8:00 p.m., at The Pavilion, located in Dennis Dryer Municipal Harbor, Roberts Point Park, in Port Aransas. Waivers will need to be signed by all fishers! Waivers will be available electronically and must be received no later than May 29 via email to
fishout2020@gmail.com
. Otherwise, waivers will be available at check in.
This is a POKER Style Tournament. Each
team leader
will be given a poker chip upon checking in. This chip will have the team number written on it and the team leader is responsible for placing this chip into the category you choose to enter after you catch your fish at the time of weigh in.
Dry bags and tournament shirts will be available for pick up at check-in for teams that registered before April 30th. For all teams that registered after April 30
th
we will provide general sized shirts(large and Extra Large) and dry bags until they run out.
Food and Prize Opportunities will be available from 4 p.m.-8 p.m.
June 6, 2020- SATURDAY TOURNAMENT SCHEDULE and DETAILS
:
TOURNAMENT
: The tournament will begin promptly at 6:00 a.m. on Saturday June 6, 2020. You are permitted to launch from anywhere, however your poles cannot cast until 6:00 a.m. Please read Official Rules Document for specific rules.
WEIGH IN
: Weigh in begins at 2:00 p.m. Saturday, June 6, 2020 and teams must have their team chip in a bucket and be in line to weigh in by 4:00 p.m.!!!
NO EXCEPTIONS
. Weigh in will take place at the Pavilion, located in Dennis Dryer Municipal Harbor,
Roberts Point Park, in Port Aransas
. Refreshments and food will be provided by PAH cookers.
WHERE
: The fishing tournament is held in and around the intercostal waterways and bays surrounding Port Aransas, Texas.
Each team can have up to 4 fishers (Guides normally do not fish, and are not included as one of the 4 men, unless they fish). There are two divisions, A GUIDED and A NON-GUIDED. A guide is NOT required, but if you hire a guide, your will be entered into the GUIDED division. Each team is responsible for providing its own boat, fuel, fishing tackle, bait, and refreshments and lunch for Saturday. Teams are also responsible for securing a guide, if they choose to use one.
CATEGORIES: GUIDED AND UNGUIDED
AWARDS Trophies will be given for 1st-3rd place in both the GUIDED and NON-GUIDED divisions, in the following categories:
Biggest Stringer
:
3 Trout/1 Redfish- Slot trout and redfish only.
Biggest Trout
:
within slot limit 15-25
Biggest Redfish
:
within slot limit 20-28
Most Spots:
Redfish caught with the most tail spots. Size does not apply unless # of spots are a tie. If same size, coin toss will determine winner. This category is an overall tournament category. Fish must be legal. There will be one bucket for a most spots Redfish.
Hard Luck:
If fishing isnt your game and you strike out, dont worry, we have a category for yall, too. Drop your chip in the Hard Luck Bucket for a chance to win a fun prize that may or may not offer a more fitting hobby for you and your non-fishing team!
Food and Prize Opportunities will be available from 4 p.m.-6:30 p.m.
GENERAL INFORMATION
All team participants are responsible for their own transportation, lodging and meals during the tournament, except during events located at the pavilion, which will have plenty of food & beverages provided by our PAH cookers.
All participants are warned to be conscious of the ferry crossing times between the mainland and Mustang Island. Plan ahead, ferry delays can be considerable on Friday and Saturday afternoon.
FISHING LICENSE
No fishing license is required on Saturday, June 6, 2020. The first Saturday in June is TPWD's "Free Fish Day" and a license with stamp endorsement is not required to fish. For more information, please visit their website at www.tpwd.state.tx.us
GUIDE HELP
Local Guide Organization:
www.cbga.org
Email:
cbgatx@yahoo.com
Sam Schiwart @ Saltitude Outfitters
Call or Text to 325-450-1682
Email saltitudeoutfitters@gmail.com
Questions?
Mason McMurray
Call832-221-0707
Write.fishout2020@gmail.com